THE PAINTING 'PILGRIMAGE'
Murray Groom writes:
Sylvan United Church, through its predecessors Shawnigan Lake United Church and Mill Bay United Church, has been a faithful presence in the life of the communities of the South Cowichan Valley for over 100 years.
The painting, depicted on the front page, symbolizes, in many ways, the journey of our faith community.
"This painting of the congregation of Sylvan United Church entering their new sanctuary in 2004 was prepared by Peter Spohn and resulted from the coincidence of a number of ev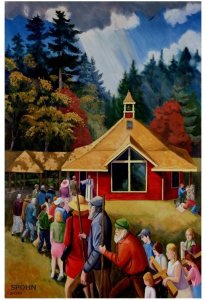 ents. It represents the culmination of a period of transformation in the life of the congregation which included the amalgamation of Mill Bay United and Shawnigan Lake United Church congregations, the renaming of the church as Sylvan Pastoral Charge, a nearly 5 year sojourn worshipping in the Shawnigan Lake Community Centre, the search and securing of an appropriate property on which to build a new sanctuary, and the construction and completion of that edifice.
In the same year 2004 I received my Doctor of Ministry degree at the fall convocation of St. Stephen's College in Edmonton, Alberta, the title of my dissertation being "The Role of the Guide on Pilgrimage." In recognition of the completion of my studies, the congregation of Sylvan presented me with a generous gift of cash, which I decided ought to be spent on some legacy to mark the confluence of events in the lives of both the community and myself. The previous year, on Sunday the 31st of October 2003 (Halloween) we had engaged in a symbolic pilgrimage from Shawnigan Lake to our new property in Mill Bay, "crossing the Jordan" at Shawnigan –Mill Bay creek and entering the promised land of our new future. Peter Spohn had been a participant in that event, and was himself in transition from his role as a teacher in the Waldorf School to a deeper vocation as a full-time artist. I approached him with the idea of commissioning a painting in honour of the variety of events, personal and communal, to which we were both party. The painting is the result of this."